Thrive's May Member Spotlight is Aaron Anaya, Territory Sales Manager at Bevi, maker of an internet-connected machine for still, sparkling and flavored water. We connected with Aaron to ask about his experience with Thrive thus far and what he likes to do around town. If you see the Bevi team around the work space, be sure to say hello!
Q:How long have you been working at Thrive?
A: I have been at Thrive for almost a year
Q: How does Thrive Workplace help your business Thrive?
A: Thrive has been a key reason for my success with Bevi in Denver. The feedback I get from clients and employees when the visit is amazing.
Q: What are your favorite amenities at Thrive?
A: The Bevi machine 😊, and having kombucha on-tap.
Q: What three words would you use to describe Thrive?
A: Tranquil, picturesque, accommodating 
Q: Tell us about your company.
A: Bevi is an all-in-one hydration solution, providing customizable beverages without any additional waste.
Q: What sets you apart from your competition?
A: To date, there really isn't a product offering like Bevi in the market. We offer still/sparkling customized drinks that eliminate waste and encourage health & wellness. But what really sets us a part from the competition is our clairvoyant level of service. Because Bevi is internet-connected, our Field Service Engineers can monitor and proactively restock the machines as necessary.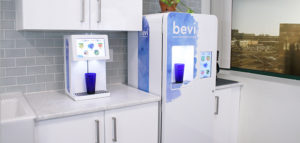 Q: How many employees does your company have working at Thrive?
A: Just me 😊.
Q: Why did you choose Thrive over other coworking spaces in Denver?
A: The primary reason I chose Thrive was because it is family owned and operated. Tonya, Charlie, Alex, and the rest of the staff have gone above and beyond and created a co-working experience like none other.
Q: What do you enjoy doing around Denver?
A: Visiting the zoo/museums with the family, going to Rockies games, and searching for the best tacos in town.